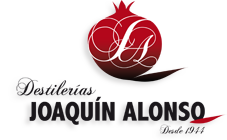 History
 Destilerías Joaquín Alonso was founded in 1944, when Joaquín Alonso Ramal started to distil anisette and gin, age brandy according to the solera process, and produce the spirits that were popular at the time.
Subsequently, the company was passed on to the founder's son, Joaquín Alonso, who expanded the range of products and branched into other spirits, including pacharán, fruit liquors and non-alcoholic  beverages, in line with consumer preferences.
In 1979, the industry moved away from the city centre to its current location. The facilities and machinery have been updated but time-honoured artisanal brewing processes are still used for some of our spirits.
Now in its third generation of family ownership, the company has invested in product innovation and extending the product line to meet consumer preferences in Spain and on the international market.